The 22 Best Villas in the Azores, Portugal
January 18, 2020
---
The Azores have largely been a haven for backpackers, so there are few luxury villas available to rent. But this is the most comprehensive guide to the Azores villas available today. It also includes some hidden gems obviously!
First, we should establish what qualifies as a villa. We did some research and settled on this definition: a villa is "a country house or estate, especially when large or luxurious." So, we'll focus on standalone houses in the Azores that are four bedrooms or more and at least a little luxurious.  But as you'll see, there are not many large luxury accommodations in the Azores. Therefore, some are not quite "luxury". We've also listed some smaller options near each other that you can rent together to sleep a large group. Also, get the key to $, $$, $$$ and $$$$ in the Travel Honey Pricing Guide.
Next, let's get you familiar with the Azores. The Azores is a Portuguese archipelago of nine islands that is about 930 miles west of mainland Portugal (maps of the Azores). Above all, these volcanic islands provide spectacular natural beauty. Furthermore, it includes hot springs, crater lakes and amazing beaches with black volcanic sand. Some of the hot springs in the Azores are must-see if you are here. The easiest island to get to without a doubt and the largest of the Azores islands is São Miguel. That's where you'll find the largest selection of Azores villas without a doubt.
We've divided the villas by Azores islands – but as you'll see, not every island has a villa.  And we should be upfront, if you're looking for a luxury Azores villa of the sorts that is listed on a website like this one, then sadly, nothing yet exists. There's also not a lot of design-forward villa options.  Most of the villas in the Azores are indeed family homes that have been turned into Airbnbs.  But if you're interested in a big luxury villa in the Azores, there might be hope yet – scroll to the end of the post.  
There are villa options on 8 out of the 9 Azores islands. We've ordered the islands so that the islands with the most villas are at the start of the list. If you want background on where exactly the Azores are and which islands are near each other, then head here.
AZORES VILLAS: A GUIDE TO THE BEST VILLAS IN THE AZORES
São Miguel Villas
As we noted above, São Miguel is the biggest Azores island (40 miles by 9 miles) and most populated. It also has the biggest selection of tasty restaurants and your best chance at nightlife. It boasts the most beaches, crater lakes, hot springs, and hiking trails. If you have less than a week, São Miguel is the best Azores island for you. Also, you can plan your 7 days itinerary to Sao Miguel and enjoy the island to the fullest. Furthermore, the island has the most options of villas in the Azores and the most luxurious villas.
Although lacking a view, this property is the most luxurious villa in the Azores. Relax by the pool or drink wine by the fire pit in this bright four bedrooms modern villa. La Maison exudes minimalist luxury: a simple design with tones of gray and white with warm wood accents.
This spacious luxury villa in the Azores has a contemporary (although somewhat outdated) design and a beautiful private pool for chilling out and taking in the gorgeous sea views. Guests can soak tired muscles in the bubbling hot tub after a day of hiking. Four bedrooms and 5 bathrooms, an indoor garden, fitness room, satellite TV, leather sofas and a state-of-the-art kitchen make this a top choice.
Rent 4 bedrooms in this traditional Portuguese villa or the complete 7 bedroom home on this beautiful estate. You can njoy mountain and garden views form the villa. It has ensuite bathrooms and on-site billiard room shared lounge and kitchen facilities. 10 minutes from Sete Citades Lagoon, this villa has the feel of a boutique hotel with its elegant furnishings, complimentary toiletries, water, tea, coffee, and fresh fruit.
With 5 bedrooms served by 2 modern bathrooms, this superbly located beach house in the Azores is well-appointed with wood flooring, cable TV, dishwasher and washing machine. In particular, sea views can be enjoyed from the garden and patio terrace with fire pit. Just 250 feet from Paraia da Pedreira, it includes free parking and free Wi-Fi.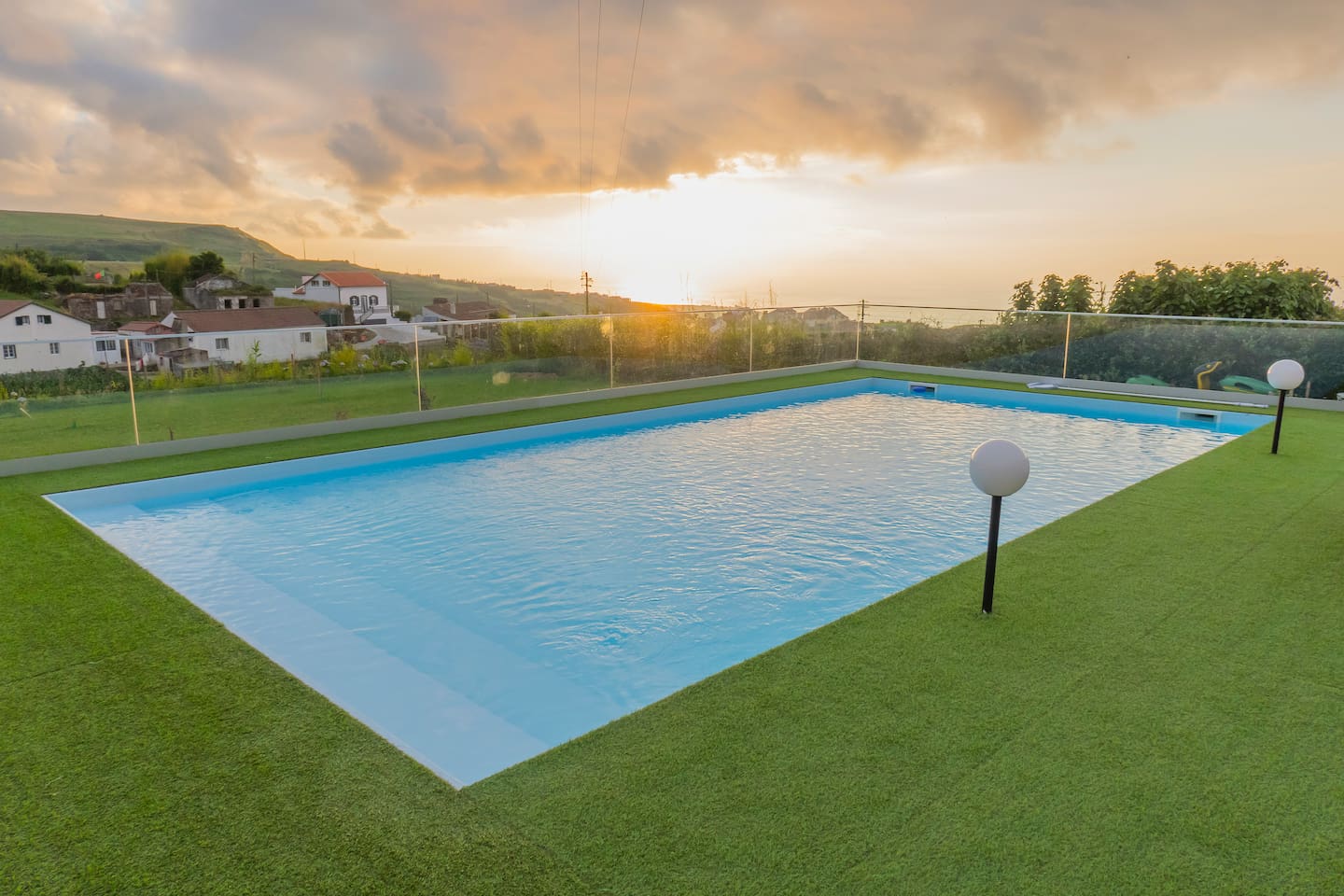 This quaint country cottage has a private pool and gorgeous sea views from its lofty hillside position. Tile floors and comfortable furnishings can be found in the living room and dining kitchen which is simple but adequately equipped. Six bedrooms and 3 bathrooms for 13 guests round off the generous accommodation.
Pico Villas
After Sao Miguel, Pico has the next best selection of Azores Villas. It also has the next best selection of restaurants and is the island to visit if you enjoy hiking and wine. There is a broad range of villas from rustic renovated stone properties filled with charm to modern well-appointed luxury villas, many with a private pool and panoramic ocean or mountain views.
This villa offers breathtaking views across the island. You can enjoy the views from pool, garden and terrace. This beautifully renovated stone house has 4 bedrooms and 3 modern bathrooms. It boasts satellite TV, gourmet kitchen with dishwasher, microwave and washer/dryer and a shared lounge area. Ideal for exploring the area on foot, car or bicycle, it is located in Sao Roque do Pico
Catering for 12 guests in 6 bedrooms with 2 modern bathrooms, this well-maintained villa in the Azores exudes charm and character. Dine al fresco enjoying the fresh air and mountain views or relax with TV and Wi-fi in the comfortable living room. The eat-in kitchen is exceptionally well equipped and everything is clean and bright.
If you're looking for a luxury villa in the Azores with infinity pool and terrace specifically, this new-built home is a top choice. Four ensuite bedrooms comfortably accommodate 8 guests. Additionally, the smart kitchen includes dishwasher, microwave, and fridge, and a la carte breakfast is available every morning and the living room includes Wi-fi, a Blu-ray player, satellite TV, and DVD player. Also, all of this is just 8 miles away from Pico Airport.
Presiding over stunning ocean views, this 4 bedroom luxury villa on Ilha do Pico is an award-winning renovation on the Architectural Route of the Azores. The ancient stone exterior contrasts sharply with the modern luxury interior which includes huge picture windows and an amazing dining kitchen with sliding glass walls. It makes the ideal getaway with 4 bedrooms and 2 bathrooms on the lower floor and the dining kitchen upstairs although you'll want to dine al fresco on the deck with those amazing views!
Terceira Villas
This is the second largest of the Azores islands with a good choice of luxury villas and spacious houses for larger families and groups. The standard of accommodation tends to be more modern and luxurious than the other islands. Several villas have private outdoor pools, are close to the seafront and within easy reach of the airport and Angra do Heroísmo, the UNESCO-listed historical capital of the Azores.
The homely Casa Familiar in São Bartolomeu, has 5 spacious bedrooms. It also has a fully equipped kitchen with a breakfast table and dishwasher. Additionally, the place has a spacious living/dining room with flatscreen TV and original exposed beams. Ideal for up to 9 guests, it has an outdoor patio, garden, barbecue and parking just 16 miles from the airport (shuttle transport available).
The palatial Martin Guest House offers luxury accommodation on Tercia for guests that includes an outdoor pool and garden. Air-conditioned rooms have a flatscreen TV, minibar and Wi-Fi. Two living rooms, outdoor seating and games rooms with billiards table make this a popular Azores accommodation option just a mile from the Riviera sandy beach. This is unquestionably one of the best houses to rent in Terceira.
12. Magnificent Ocean Views – 5 bedroom house ($$)
Without a doubt, it's hard to beat this luxury 5 bedroom Azores villa with magnificent ocean views from the furnished terrace and wrap-around balcony. Furnished in local style it offers a modern fully-fitted kitchen with stainless steel appliances, 5 comfortable bedrooms for 12 guests, 3 modern bathrooms, indoor fireplace and choice of sitting areas. Just down the street, there's a swimming hole for a cooling dip. It is indeed a best choice for those who want to live in a comfortable setting amidst nature.
Absolutely a stunning house in the Azores with a contemporary vibe and private pool overlooking the ocean. Choose from three options: a luxury apartment for 3 with bedroom and sofa bed; a garden view apartment with bedroom and sofa bed to sleep 3, or the 2-bedroom house for 4. Alternatively, book the whole 4 bedroom luxury villa. It has a gourmet European-style kitchen and living room with a wall of sliding glass for enjoying sunsets and ocean views. Free bikes, top diving and seaside nearby.
Within sight of the ocean, this well-furnished luxury villa home in Tercia has a comfortable sitting room with wood floors and flatscreen TV, 4 bedrooms, 3 modern bathrooms and a fully equipped modern kitchen with dishwasher. It includes Wi-Fi and daily housekeeping. Relax and enjoy the ocean view from the sun terrace which is in an excellent location in Angra do Heroísmo.
15. Casa dos Franceses ($$$)
Located in the west of Terceira Island, this luxury villa in Serreta has an open-plan living, fully equipped kitchen, 5 bedrooms and 2 bathrooms for 12 guests. Outdoor terrace with stunning views across the ocean to Graciosa, São Jorge, and Pico. Spacious contemporary accommodation on 2 floors with everything you need a short walk away (bakery, fishmonger, grocery store and excellent restaurant) for enjoying a relaxing holiday in the Azores.
Sao Jorge Villas
São Jorge is best known for its hiking and its cheese. Although less populated and less visited than its close neighbor Faial Island, has a better luxury villa option. Unfortunately, São Jorge villa accommodations are limited in number. But they provide an excellent base for exploring the island with its steep cliffs and stunning ocean views.
This luxury holiday villa in the Azores in undoubtedly one of the best options to stay. It has 7 bedrooms for up to 19 guests, one family bathroom and the benefit of air-conditioning. In addition to that, it has a fully-equipped kitchen that includes a dishwasher, fridge, washing machine, and the sitting room has satellite TV and Wi-fi. Spend time outdoors on the furnished patio savoring breathtaking ocean views.
Santa Maria Villas
Many visitors are drawn to Santa Maria villas in the Azores due to the island's white sandy beaches. Others visit due to the dramatic rock formations and interesting places to visit in and around Santa Maria town. Santa Maria is also part of the Eastern Group of Azores islands and is a 3ish hour ferry ride from São Miguel island.
Obviously there are many options to stay in Santa Maria but this one tops them all. This traditional Azores villa has a living room, full kitchen, 4 bedrooms, and 2 bathrooms. You can enjoy breathtaking mountain views from the furnished patio. Rustic but clean and comfortable, guests are welcome to cook in the kitchen. You can also dine at the restaurant 1.2 miles away in Santa Maria town.
Flores Villas
Named after its abundance of wildflowers, this westernmost island in the Azores has villa accommodation for all tastes. Enjoy ocean views while enjoying accommodation in a private hotel. You can also opt for a relaxing farm stay with a mix of traditional and modern design.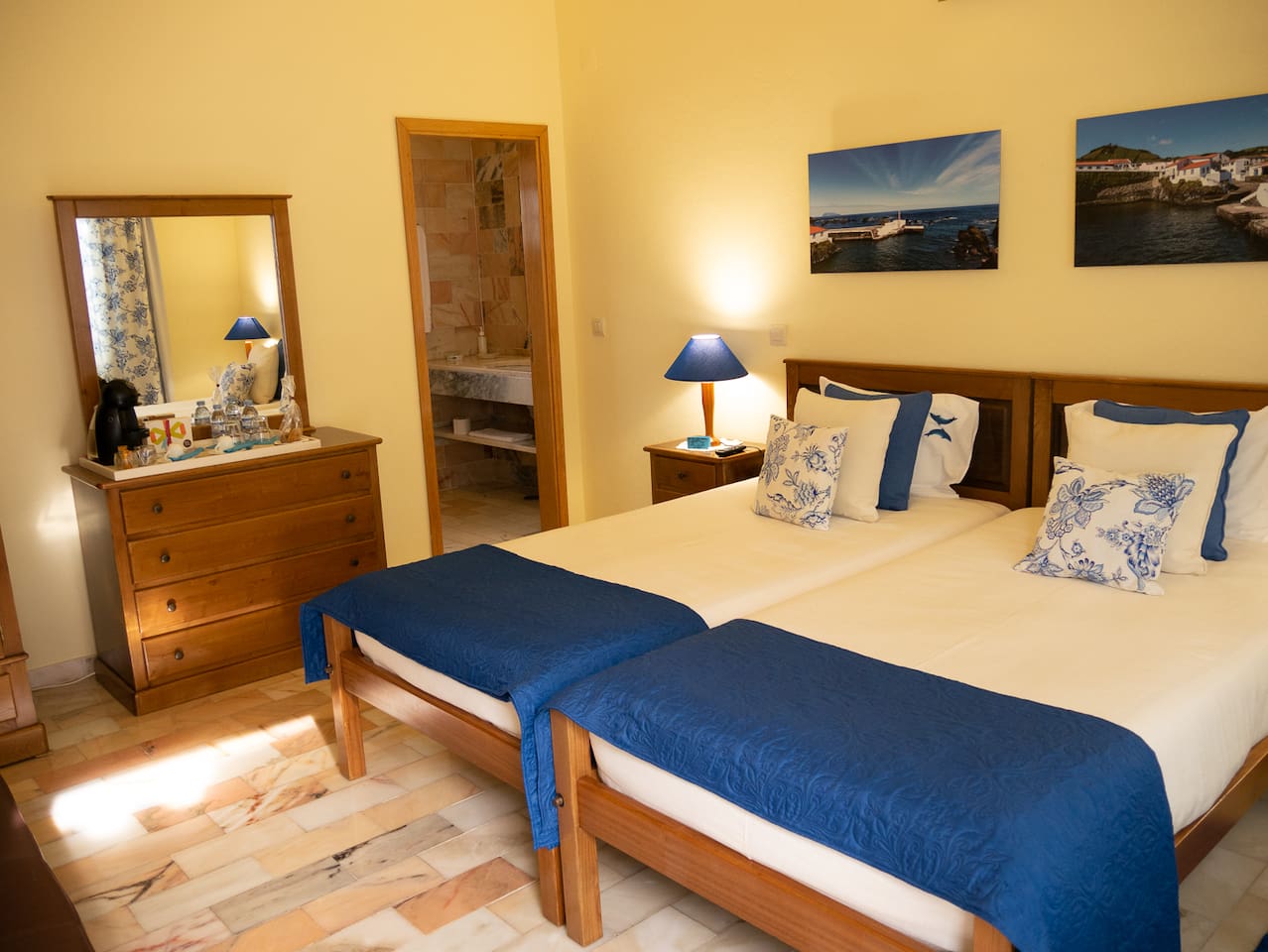 This attractive Azores hotel is right in the town of Santa Cruz das Flores and steps from the ocean. Additionally, it has plain but comfortable bedrooms, tiled bathrooms and a garden for relaxing in the sun. With a total of 6 bedrooms, all with private bathrooms, it offers individual rooms or the whole villa so check carefully when you book. Enjoy breakfast in the cafe before heading out to explore the town, beach and Porto das Poças with ferries to Corvo.
Located in Faja Grande, this delightful farm stay accommodation in the Azores has the benefit of a well-appointed bedroom, private bathroom and kitchenette with a fridge, stovetop, kettle, coffee machine, and microwave as part of the farm complex. There is also a 4 bedroom house available. Enjoy continental breakfast before hiking nearby. The property also has a garden, bar, barbecue, ATM and Wi-Fi.
Graciosa Villas
Dominated by the huge volcanic caldera, Graciosa island has typical Portuguese architecture. Moreover, the natural resources in Graciosa (along with Flores and Corvo) have also been classified by UNESCO as biosphere reserves.
The traditional villa rental is basic but comfortable and well-equipped for an enjoyable stay.
Rent this traditional house or just a room at Santa Cruz da Graciosa and enjoy 5 bedrooms, 5 bathrooms and plenty of space for 10 guests. Although the furnishings are nothing to write home about, it has traditional volcanic rock feature in the living room. It also has sea and mountain views, a well-equipped kitchen with dishwasher, refrigerator and a full range of appliances make this a very well-appointed Azores villa with many quirky features.
Faial Villas
Although Faial is the third most visited island in the Azores, it has one of the poorest selections of villas in the Azores. The lack of luxury Azores villas is likely because Faial is most popular with tourists visiting by boat. We've listed the two best options, a traditional villa home and a modern air-conditioned luxury villa in Horta, but neither are luxury.
Located on Faial island, this 4 bedroom whitewashed house on the Azores is on the outskirts of Horta enjoying superb ocean and harbour views. Besides that, you can relax in the sunny garden watching the boats or walk into town for shopping and dining. Additionally, the kitchen of this house includes a coffee machine, oven, microwave and toaster and there's a barbecue for outdoor dining. Without a doubt, this is one of the best places to live in the Azores.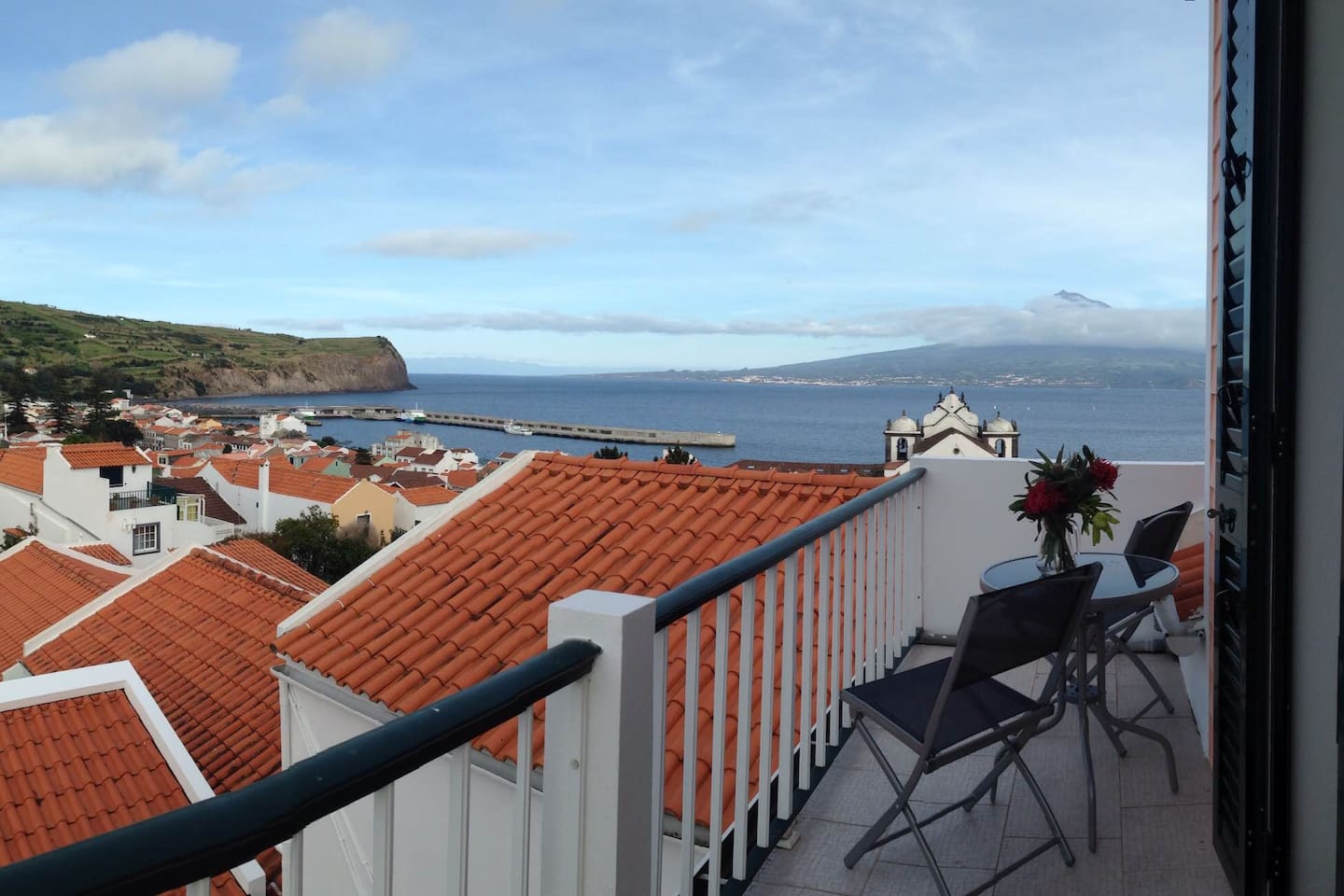 Unquestionably, a great place to stay in the Azores with your family. With 5 bedrooms and 4 bathrooms, this modern holiday villa in Horta has a private courtyard and several balconies. Also, here you can enjoy stunning views of the port over the rooftops. Moreover, rooms are air-conditioned and typically Portuguese with tile floors and bathrooms. Also, there's a cozy sitting room with sofas and a huge family kitchen. The kitchen has dishwasher and marble worktops. You'll also have your separate laundry. Besides enjoying the surroundings, you can walk to local markets, restaurants and the port is pretty easy.
Corvo Villas
Last but not the least is Corvo Island. With less than 500 inhabitants, the Azores Island of Corvo is undoubtedly the smallest and most northern island. Also, it does not have any accommodations that meet our definition of a villa. But we suppose, that's part of the appeal :).
So, if you're heading the Azores islands, we hope you're now better equipped to pick your favorite Azores Villa! You'll find many other luxurious options especially in Sao Miguel, Pico, and Terceira islands. Sao Jorge is a great option if you want luxury but also want to get off the beaten path. Finally, the other islands are great if you're not looking for a luxurious Azores villa.
But if you still haven't found what you're looking for, and you want a large 7+ bedroom villa with stylish, design-forward luxury on Sao Miguel, then let us know. You can reach out to us at contact@travelhoney.com, and you can get the inside track for early booking when it comes online!
In conclusion, if you want to know more about the Azores, read about the best restaurants, hotels, and activities to do in the Azores.